Our broad selection of plaques offers an extensive choice of materials, location, length of inscription and additional features.
You can view the location of particular memorials in the Gardens of Remembrance using our map here.
Type
Floris
Kerb
Bronze Wall
Slate Wall
Vase Block
Scented Garden
Arboria Plaques
 
 
 
 
 
Location
Selected Summer
Houses
Posy
Holders are also
available here and
make the perfect
accompaniment to a
Floris
Plaque
Designated areas of
gardens
Designated areas of
gardens
Designated
areas of
gardens
Designated
lawns in
Redcrofts area
of gardens
Scented
Garden raised
beds
Romford Memorial Chapel, Crow Lane Cemetery
Resting place
for remains
Surrounding lawn
Surrounding lawn
Surrounding lawn
Surrounding lawn
Behind the memorial or in line with it in lawn
Lawns outside the Scented Garden
Mini-Headstone plots or existing family grave in which a full burial has taken place
Plaque
Manmade material with the appearance of stone
Bronze or Perspex
Bronze
Welsh Blue-Black Slate
Sloping Black or pink Granite
Sloping Red Granite at waist height
A wooden veneer plaque with precision engraved lettering.
Size
300mm
x 119mm
Bronze
154mm x 104mm; Perspex150mm x 99mm
200mm
x 60mm
310mm
x 64mm
192mm
x 124mm
260mm
x 235mm
255mm x 100mm
Inscription
152
characters and
spaces over 5 lines
80
characters over six lines
80
characters over four lines
Up
to 24 characters per line
60
hand cut characters over three lines,or 120 over 6 lines on a double
plaque
120
characters and spaces over six lines
160
characters and spaces over eight lines (if
you use three or more lines for names you may not have room for eight
lines)
Line 1: 25 characters and spaces (21 with motif/photo)
Lines 2-4: 32 characters and spaces/line (25 with motif/photo)
Gilt lettering
-
-
-
-
✔ (black
tablets only)
✔
-
No. dedications
/plaque
2
2
2
2
(4 on a double plaque)
2
2-4
1-2
Engraved motif
included
✔
-
-
-
-
-
-
Optional
Engraved motif
(extensive
illustrations
available to view in
our office)
-
✔
-
-
✔
✔
✔
Engraving may be painted
Optional
ceramic
motif/photo
(additional fee
applies; quality of
finished product
will depend on the
clarity of the photo
provided)
✔
-
-
-
✔
✔
✔
Vase
incorporated
-
-
-
-
✔
-
-
Lease and Renewal
Fees include:
the plaque
chosen motif (additional fees applies in some cases)
10 year lease in grounds
option to renew at lease end
If you purchase a plaque and wish to add another name at a later date, you will need to pay for:
a replacement plaque
the rights to have a further dedication on the plaque for the remainder of the lease, unless added within the first year of the lease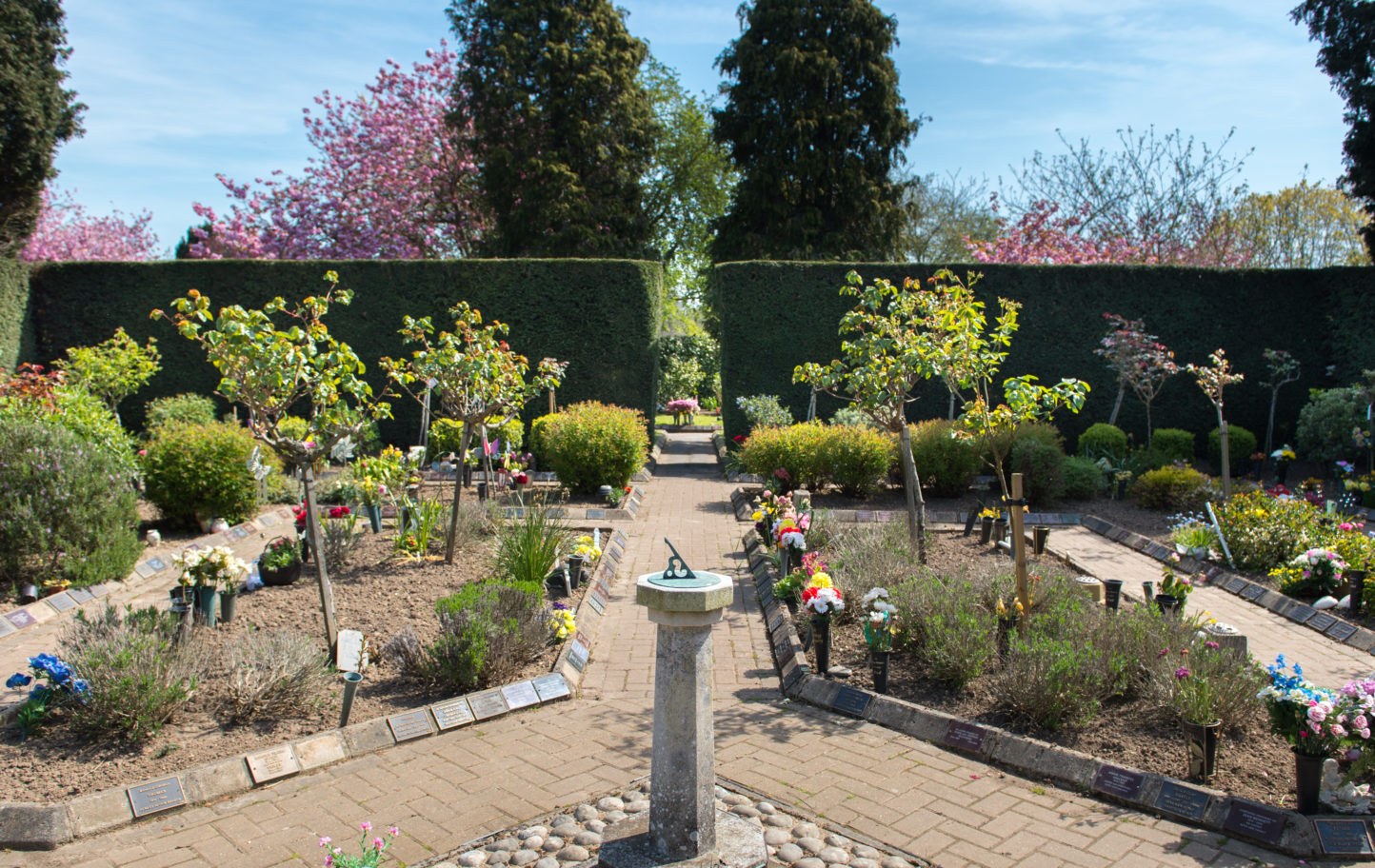 Your lease end date will remain the same. If your plaque has fewer than five years lease to run you can choose to renew the lease, ie. Adding ten years on to the existing lease end date.
At the end of the lease if you decide not to renew you may:
collect the plaque from our office by appointment or
pay a small fee for us to send it to you.
Due to the nature of the material we cannot guarantee that slate plaques may be removed without damage to the tablet
Selecting a plaque position
We can choose a position for you but if you would prefer to make the choice:
take name and/or no. of the plaque above/below/left and right of your preferred position
select four positions in order of preference
contact us by telephone or using the Memorial Enquiry Form below where possible we will reserve your first choice for 28 days
Each plaque is individually numbered therefore if you wish to move your plaque to a different position within the Gardens of Remembrance you will need to order a completely new plaque.
To order:
download the application form below or
make an appointment with one of our staff at South Essex Crematorium